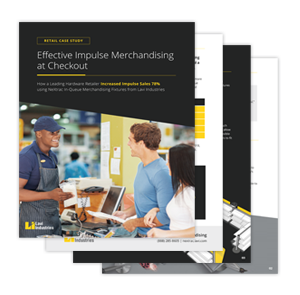 RETAIL CASE STUDY
Effective Impulse Merchandising at Checkout
How a Leading Retailer Increased Impulse Sales 130% using NeXtrac In-Queue Merchandising Fixtures from Lavi Industries
Use the form below to request INSTANT access to this case study.
In its quest to continue growth in impulse sales at checkout, a leading U.S. retailer turned to Lavi Industries to provide merchandising fixtures that would combine in a flexible, seamless way with the company's merchandise selections.
It was important that the solution be modular to easily adapt to numerous store footprints, flexible to accommodate a variety of merchandising planograms, and simple and straight-forward to install.
Results of the Nationwide Rollout:
Read this case study to learn how Lavi's NeXtrac in-queue merchandising systems answered the call and delivered:
38% higher unit growth
64% higher transaction growth
130% higher sales growth
Complete the form on this page for instant access to the case study.